Posts for tag: tooth decay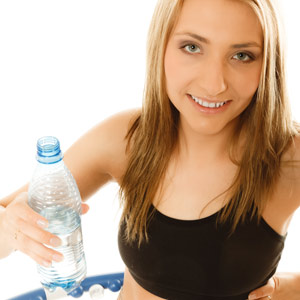 Your teeth's hard, enamel coating protects them from environmental dangers or disease. But although it's made of the hardest substance in the human body, enamel isn't invincible — prolonged exposure to acid can cause dental erosion, a condition in which the enamel's mineral content permanently dissolves, a process known as de-mineralization.
De-mineralization occurs anytime our mouth environment becomes too acidic due to eating or drinking items with high acid content. Saliva normally neutralizes mouth acid in thirty minutes to an hour after we eat, as well as restores mineral content to the enamel (re-mineralization). Danger arises, though, if the saliva's buffering action is overwhelmed by chronic acidity, caused mainly by constant snacking or sipping on acidic foods and beverages throughout the day — in this situation, saliva can't complete the process of buffering and re-mineralization.
As a result, the enamel may permanently lose its mineral content and strength over time. This permanent dental erosion leads to serious consequences: the teeth become more susceptible to decay; the dentin becomes exposed, which causes pain and sensitivity to pressure and temperature changes; and changes in the teeth's size and color can negatively alter your appearance.
It's important to take action then before dental erosion occurs. Along with daily oral hygiene, restrict your consumption of acidic foods and beverages to meal times and cut back on between-meal snacks. Rather than a sports drink after exercising, drink nature's hydrator — water. You should also alter your brushing habits slightly — rather than brush right after you eat, wait thirty minutes to an hour. This gives saliva time to restore the mouth to its normal pH and re-mineralize the enamel. Brushing right after can remove even more of the minerals in softened enamel.
If significant erosion has occurred, there are a number of treatment options we can undertake to preserve remaining tooth structure and enhance your appearance. In moderate cases, we can reshape and cover damaged teeth using dental materials like composite resins or porcelain to fill decayed areas or cover teeth with veneers or crowns.
The key of course, is to identify dental erosion through clinical examination as soon as possible to minimize damage. Your enamel plays a critical role in protecting your teeth from disease — so take the right steps to protect your enamel.
If you would like more information on protecting your enamel, please contact us or schedule an appointment for a consultation. You can also learn more about this topic by reading the Dear Doctor magazine article "Dental Erosion."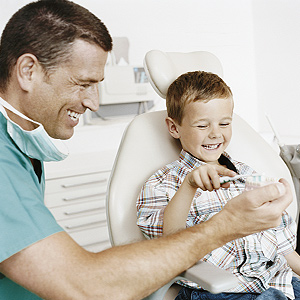 While the prevention and treatment of tooth decay has improved dramatically over the last half century, it continues to be a major health issue, especially for children. One in four children 5 and younger will develop some form of the disease.
Although tooth decay in children stems from the same causes as in adults — the presence of decay-causing bacteria in plaque, unprotected teeth and the right mix of carbohydrates like sugar left in the mouth — the means by which it occurs may be different. We even define tooth decay differently in children as Early Childhood Caries (ECC), "caries" the dental profession's term for tooth decay.
ECC highlights a number of cause factors specific to young children, such as: continuous use of a bottle or "sippy cup" filled with juice or other sweetened beverages; at-will breast-feeding throughout the night; use of a sweetened pacifier; or regular use of sugar-based oral medicine to treat chronic illness.
If you noticed sugar as a common denominator in these factors, you're right. As a primary food source for bacteria, refined sugar is a major trigger for the disease especially if it constantly resides in the mouth from constant snacking or sipping. In fact, it's the primary driver for a particular pattern of decay known as Baby Bottle Tooth Decay (BBTD). This pattern is specifically linked to sleep-time bottles filled with juice, milk, formula or other sweetened beverages, given to an infant or toddler to help soothe them through the night or during naps.
All these factors cause a cycle of decay. To interrupt that cycle, there are some things you as a parent should do: perform daily hygiene with your child to reduce decay-causing bacteria; reduce the amount and frequency of carbohydrates in the diet, particularly sugar; and protect the teeth by having us apply fluoride or sealants directly to the teeth.
Early tooth decay could affect your child's oral health for years to come. With a little care and vigilance, you improve your chances of avoiding that encounter.
If you would like more information on preventing tooth decay in children, please contact us or schedule an appointment for a consultation. You can also learn more about this topic by reading the Dear Doctor magazine article "Dentistry & Oral Health for Children."